SmileFast
What Is Smilefast?
SmileFast is a ground-breaking new development in Smile Design and the Provision of Smile Makeovers. It is now available at Hampsteads Dental Practice in Northallerton.
Whether you are seeking a small enhancement to your smile or a full cosmetic transformation, the SmileFast revolutionary technology can deliver outstanding results, creating the smile of your dreams at an affordable price. SmileFast helps you to visualise your planned new smile, using the latest 3D-planning technology along with the unique SmileFast system. It enables us to design the perfect smile for you.
What's more the SmileFast system enables us to place a custom-designed composite veneer smile makeover for the front 6 teeth in just one application, meaning you walk away with the perfect smile in no time at all.
SmileFast can help with:-
Small or spaced teeth
Gaps in your teeth
Worn down teeth
Front teeth bonding
Crowded and aged teeth
Acid erosion
Colour or texture change
Overlapping upper teeth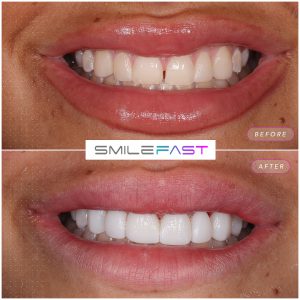 The SmileFast Process
Step 1. Your SmileFast Design
A digital scan and photographs will be taken of your teeth. Using this information your new smile will be designed and a digital image will be created for you to approve.
Step 2 – Trial Your Smile
Your new trial smile will be physically placed over your current teeth using temporary material for you to see your smile in real life. Any final tweaks and adjustments can be made to your smile to ensure a perfect next step.
Step 3 – Create Your Perfect Smile
Your new smile will be placed in one appointment; the process is pain free using minimally invasive techniques to deliver your dream smile.
If you'd like to learn more about transforming your smile with SmileFast then please book a free consultation or call 01609 761377.