Profhilo ® Skin Rejuvenation
Hydrate, Brighten And Remodel Ageing Skin
This highly effective, innovative treatment is given by injecting a stabilised form of Hyaluronic Acid, which is a naturally occurring substance found in the skin. The delivery of high concentrations of hyaluronic acid into the dermal layer of the skin stimulates the production of collagen & elastin to significantly improve skin quality, soften lines and wrinkles and contour the face.
Pure Hyaluronic Acid is injected into 5 points on each side of the face into the dermal layer of skin. The gel like formula spreads beneath the skin, stimulating collagen & elastin resulting in firmer, smoother, glowing skin.
Profhilo® treatment is designed as a course of two treatments, four weeks apart. Best results will be seen four weeks after your second treatment. At this stage, elastin and collagen production is boosted, making the skin look firmer. The treatment effect tends to last up to six months.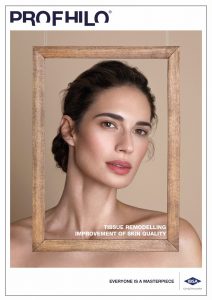 Profhilo® can also be used to improve the skin quality in other difficult to treat areas such as the neck, decollétage & hands.
Profhilo® Frequently Asked Questions
To book a free of charge consultation for Profhilo® skin rejuvenation treatment or ask for more information please call Reception on 01609 761377.